Casappa pumps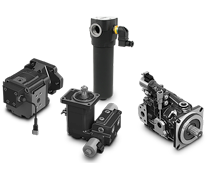 Important note: Due to the currently high delivery times of Casappa of almost one year, we have decided to only offer these Casappa pumps/motors that our Italian partners or we have in stock or that are assembled and tested by certified Casappa system partners, this applies especially to double pumps. As soon as the supply situation stabilises, we will be able to offer you the complete range again.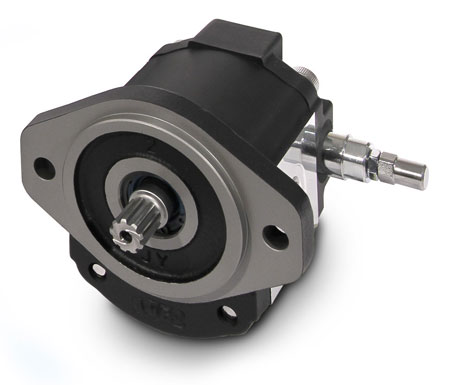 Polaris pumps and motors essentially consist of an aluminium alloy gear housing, two gears with the same bearings and two end plates, the front and rear covers. They are made of either aluminium or cast iron and have excellent mechanical properties. This guarantees the consistency of the efficiencies and low noise emissions during the life of the products. The flow rate ranges from 1.07 cm3/rev to 91.10 cm3/rev. The constant working pressure can be up to 260bar, the maximum speed up to 4000r/min. It is available in assemblies 10, 20 and 30, with various drive shafts, mounting flanges and connections that comply with international standards. Typical applications are building and construction, material handling, agriculture, forestry, log splitters and lawn mowers.
We mainly carry:
PL10 81E1 also tandem pumps
PL 20 82E2 03S1 54B2 04S5 also tandem pumps
PL30 83E3 84E4 04S5 also tandem pumps
The KAPPA 30 Compact pump is a solid, compact 2-part design. It allows many functions to be accommodated in a small space. The "Compact" line offers exceptional quality and reliability thanks to 3-dimensional modelling, virtual simulation of the pump's behaviour in the hydraulic system and tests on the machines. The reduced dimensions and a wide choice of drive shafts, mounting flanges and connections ensure great flexibility and allow use in an infinite variety of applications. The flow rate ranges from 21.99 cm3/rev to 73.82 cm3/rev. Constant working pressure can be up to 280bar, maximum speed up to 3000r/min.
We mainly carry:
KP20 82E2 03S1 also tandem pumps
KP30 83E3 84E4 04S3 also tandem pumps
The gear pumps and motors of the "PH" series are a further development of the "POLARIS" series.
The "POLARIS PH" has a new cast iron housing to achieve higher operating parameters, while maintaining the POLARIS versatility in terms of shafts, flanges, connections and built-in valves. This project is intended for forklift trucks, skid steer loaders and all those applications where traditional aluminium pumps reach their limits. The ability to connect the casing to the cast-iron covers further reduces noise levels and increases strength. A peak pressure of up to 300bar can be achieved, with a maximum speed of up to 3500r/min.
We mainly carry:
PH20 82E2 also tandem pumps
Modular design and versatility are the main features of the "MAGNUM" series gear pumps and motors. Mounting flange, casing and rear cover can be easily assembled to obtain several pumps of the same or different groups. Wide range of drive shafts and mounting flanges in SAE are available. Versions are available with the option of an integral outer bearing for all applications with axial and radial loads on the drive shaft. The connections can be side or rear mounted, also in combination of side and rear connections. The low noise level as well as the high volumes and high overall efficiency ensure reliability and a long service life in heavy-duty applications.
We mainly carry:
HD30 04S3 32S3 also tandem pumps
HD35 06S8 34S8 also tandem pumps
FORMULA refers to a CASAPPA gear pump series specifically designed for applications requiring high pressures even at low speeds; applications such as truck cranes, dump trucks and forklifts, etc. Special design features and an exclusive CASAPPA patent have perfected an ingenious mechanism that makes the FORMULA a highly reliable pumping unit that has proven itself over years of use in its respective fields. The versatility of European (ISO) and American (SAE) mounting flanges allows FORMULA pumps to be used in various applications.
We mainly carry:
FP20 13T1 single pumps only
FP30 19T1 single pumps only
FP40 19T1 single pumps only
Hydraulic components technical advice
Further information is available at: